It has been such an interesting journey for me... my career to date. I loved so much my years working in high-end fashion magazines as a Fashion Editor. I always loved the travel, having the opportunity to work in some truly incredible and inspiring locations around the world. It was, and always will be, the creative fulfillment that kept and keeps me drawn to fashion. The endless search to keep creating beautiful images that hopefully make the observer feel... inspired... moved...
In my career more recently I have worked hard to fulfill other aspects of my creative journey, allowing me to move into Styling Interiors, Sets and Food, and to create Art. I feel lucky that many years on I am able to flit between both my loves of Fashion and this other world of Interiors, Art and Still Life. Styling, and Art in essence are really about creating a vision and a beauty..that truly can be applied to any medium.
Which is why from now, the Blog, "Beauty Found", will encapsulate all the work I do as a creative soul, the little pieces of 'creative everything' in monthly trend based pockets. I look forward to sharing my vision of how trends move across different expressions freely - from fashion to still life, to food, art and to interiors. Each week, enjoy a different post across these disciplines... One trend, many mediums. I am looking forward to sharing Part 2, coming next Monday. It is something very special indeed. I hope you will enjoy.
But for now, introducing....
LE CYGNE NOIR : BLACK AND TEXTURE
PART 1 : FASHION
The Black Swan. A sophisticated collaboration between Photographer
Richard Freeman

,
Beauty Director
Rachael Mannell
and Stylist
Lara Hutton.
Sharp lines and edges are balanced through the juxtaposition of textures, creating a visual symphony of shadowy beauty.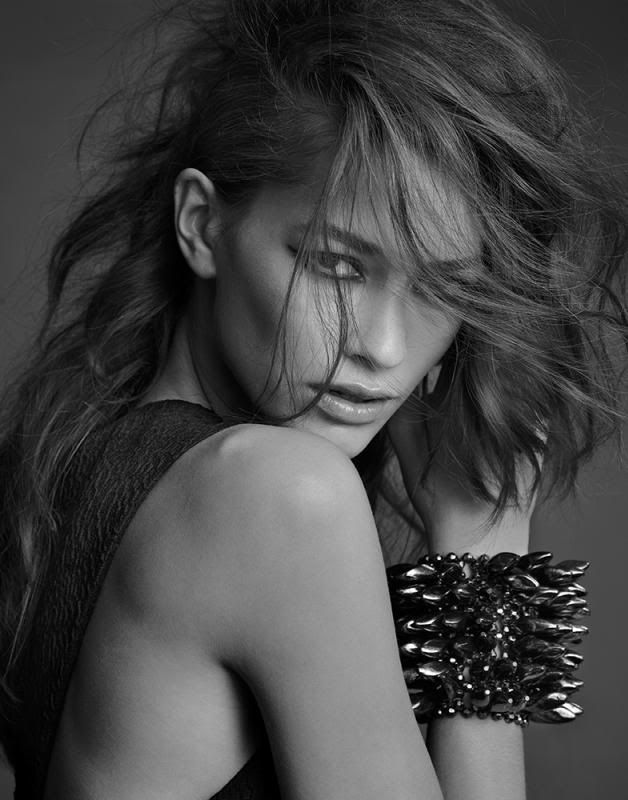 1: Coat, Pants & Shoes by Ginger + Smart, Cuff, Stylist's own. 2
: Cuff, Stylist's own.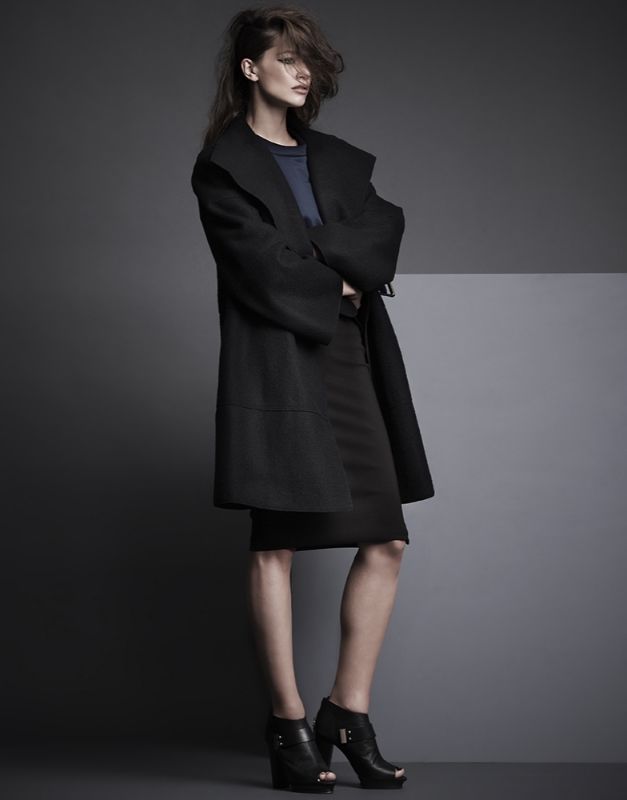 3: Dress by Nicola Finetti, Fur Coat by Lauren Vidal, Cuff, Stylist's own. 4: Coat by Paul Ka, Shoes by Ginger + Smart, Top & Pencil Skirt by Nicola Finetti.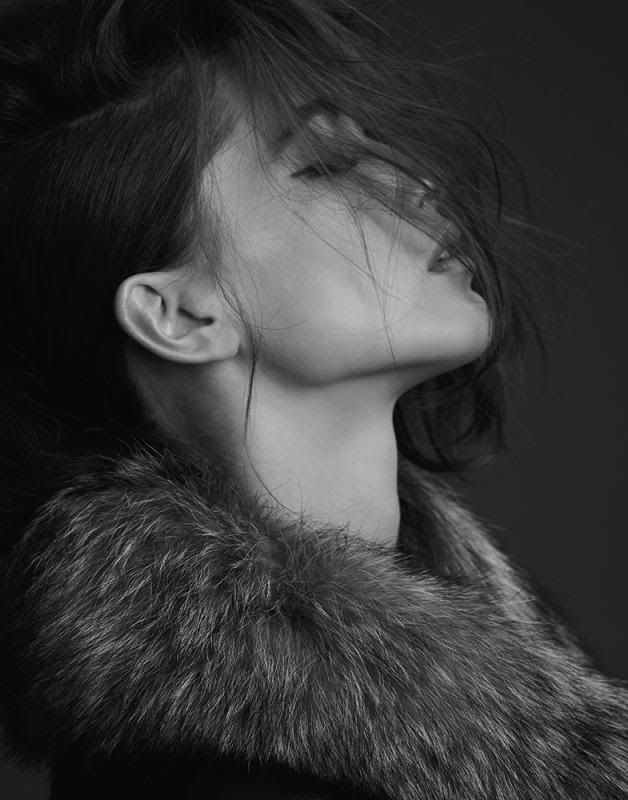 5: Fur Coat by Lauren Vidal. 6: Zip Top & Skirt by Nicola Finetti, Bag by Jerome Dreyfuss, Cuff, Stylist's own.
On this project I have teamed up with a very special line-up of creatives. I have worked with Photographer Richard Freeman recently on several collaborations, and have loved so much the creative symmetry and synergy of our visions. He is an incredible talent and I look forward to bringing to the Blog much more of our wonderful creative escapades.
Rachael Mannell is a long time friend who I have worked with in magazines for many years now. Some of the best years. To have the opportunity to work together again on a creative project like this has been very special. Rachael's vision and passion is in itself an inspiration. She is gifted beyond words in her work. This is evident with her close collaboration with both Jasmin and Byron's, and the beautiful results. Jasmin has such a beautiful delicate hand - subtle modern makeup . I loved working with Jasmin. Byron created art with the hair, the lines, the shape and the body all working together to enable such modern simplicity and beauty. Rachael has also provided some golden tips for achieving these beautiful looks for both hair and make-up.
BEAUTY NOTES from BEAUTY DIRECTOR RACHAEL MANNELL
HAIR HOW-TO
PREP: Apply Evo Happy Campers, $25.95, to the underneath section of hair to help ensure shine and give heat protection.
STYLE: Pull hair back to low ponytail at nape, wrap piece of elastic around to secure. Through top section apply Redken Guts Mousse, $30.95, from root to tip and blow-dry through. Take inch wide pieces and randomly tong in sections all the way to end.
FINISH: Spray Redken Quick Tease 15, $27.95, to plump hair and give a teased look and manipulate with fingers.
MAKE-UP HOW-TO
PREP: Give skin a satin finish by cleansing well with Bioderma Crealine H20, $29.95, and follow with Dermalogica Skin Smoothing Cream, $58. Mattify the centre of the face with Clarins Instant Smooth Perfecting Touch, $38.
FACE: Apply Marc Jacobs Foundation which has a cream/gel formulation and melts into skin, giving a light finish; blend out to nothing at the hairline. Finish with a touch of powder on the tip of the nose. N.B. Marc Jacobs Foundation is not available in Australia so try CK ONE 3 in 1 Foundation, $55, which has a very similar texture.
CHEEKS: Cream textures mimic the skin's natural lustre, so blend a taupe cream blush like Stila Convertible Colour in Camellia, $40, with fingers just under the apple of the cheeks, avoiding heavy contouring.
EYES: Freshly sharpen a black eye pencil like MAC Powerpoint Eye Pencil, $32, that has been stored in the fridge and line the top and bottom lash line to define. Extend both top and bottom line past the lashes towards the temple. Start by lightly pulling the corner of the eye taught straight across, so you can still watch what you're doing. Go over both lines with a gel liner containing a hint of shimmer like MAC Fluideline in Blacktrack, $32, with a very fine brush to ensure the lines are clean and symmetrical. Finish with mascara on the roots only, so the lash doesn't go past the liner.
BROWS: To ensure the overall look is not too harsh, don't fill in the brow; instead comb through a tinted brow gel to neaten.
LIPS: Press MAC Lipstick in Patisserie, $36, onto lips with your fingers to stain lips.
NAILS: Zova in Gaia, $19.
Follow Rachael Mannell on Instagram
Follow Rachael Mannell on Twitter
Follow Lara Hutton on Instagram
Follow Richard Freeman on Instagram